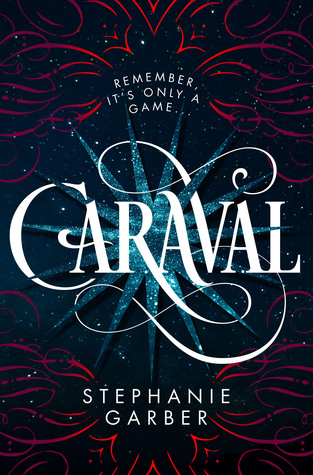 Rating: 4/5
Summary from Goodreads:
Whatever you've heard about Caraval, it doesn't compare to the reality. It's more than just a game or a performance. It's the closest you'll ever find to magic in this world . . .
Welcome, welcome to Caraval―Stephanie Garber's sweeping tale of two sisters who escape their ruthless father when they enter the dangerous intrigue of a legendary game.
Scarlett has never left the tiny island where she and her beloved sister, Tella, live with their powerful, and cruel, father. Now Scarlett's father has arranged a marriage for her, and Scarlett thinks her dreams of seeing Caraval, the far-away, once-a-year performance where the audience participates in the show, are over.
But this year, Scarlett's long-dreamt of invitation finally arrives. With the help of a mysterious sailor, Tella whisks Scarlett away to the show. Only, as soon as they arrive, Tella is kidnapped by Caraval's mastermind organizer, Legend. It turns out that this season's Caraval revolves around Tella, and whoever finds her first is the winner.
Scarlett has been told that everything that happens during Caraval is only an elaborate performance. But she nevertheless becomes enmeshed in a game of love, heartbreak, and magic with the other players in the game. And whether Caraval is real or not, she must find Tella before the five nights of the game are over, a dangerous domino effect of consequences is set off, and her sister disappears forever.
Stephanie Garber's Caraval has such an interesting opening, in lieu of a prologue it contains 7 letters written by our protagonist to the head of the mystical Caraval, Legend. It's a charming opening to see the evolution of Scarlett's maturity through writing and even how she addresses Legend. It goes on to show a complicated family dynamic that is played up so dramatically with the mystery and magic of Caraval.
Early in the book we meet Julian, the mysterious sailor referenced above, who is a confusing character all around. His intentions are suspect, particularly considering we meeting him with his hands on Tella and how quickly he shifts his attentions to Scarlett. Honestly, it took a little bit (and some good craft by Garber) to get me past his initial meeting. Once we arrive at Caraval, the true beauty in this book begins to shine. The descriptions and settings are rich and sumptuous (as Roshani Chokshi blurbed "decadent" – and she wasn't wrong!).
The intrigue of the game is compelling through the whole book. There were moments where I thought I had the whole thing worked out, and then the next second it fell apart which made for such an enjoyable read.
I loved that Scarlett's motivations revolved around her family, particularly her sister, despite moments where I wanted to scream at her that she needed to think about herself from time to time.
All in all, a great read and I highly recommend it. Already can't wait for the next book!