Rating: 5/5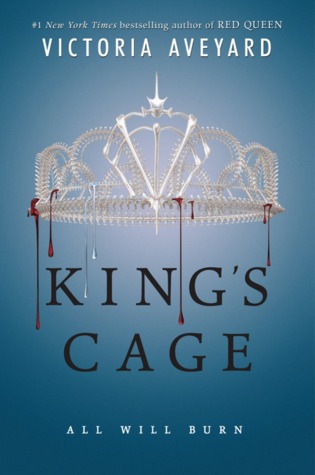 Goodreads Summary:
In this breathless third installment to Victoria Aveyard's bestselling Red Queen series, allegiances are tested on every side. And when the Lightning Girl's spark is gone, who will light the way for the rebellion?
Mare Barrow is a prisoner, powerless without her lightning, tormented by her lethal mistakes. She lives at the mercy of a boy she once loved, a boy made of lies and betrayal. Now a king, Maven Calore continues weaving his dead mother's web in an attempt to maintain control over his country—and his prisoner.
As Mare bears the weight of Silent Stone in the palace, her once-ragtag band of newbloods and Reds continue organizing, training, and expanding. They prepare for war, no longer able to linger in the shadows. And Cal, the exiled prince with his own claim on Mare's heart, will stop at nothing to bring her back.
When blood turns on blood, and ability on ability, there may be no one left to put out the fire—leaving Norta as Mare knows it to burn all the way down.
My appreciation for the Red Queen series just keeps increasing with each successive book. King's Cage upped the pattern for sure. I'm a huge fan of Aveyard's writing and vision. (Not to mention, she's a phenomenal panelist and a generally crazy smart woman.)
One excellent switch up with this book is making it multi-POV. Cameron was a brilliant choice for a second narrator and I loved her in contrast with Mare. Both clever, but bitter, jaded at too young an age but with different outlooks. There's another one but I'll let y'all find that who for yourselves. But it was a thoughtfully done switch up and I appreciated that.
@VictoriaAveyard I'm not crazy, there are totes shoutouts to Alex Bracken, Leigh Bardugo and probs more in King's Cage, yeah? Also, it's 🙌🏻

— Natalie (@NatReads) April 5, 2017
So as you can see in these tweets, I also noticed that there were some lovely shout outs to some of her friends, which was a delightful treat.
There were many additional elements that I enjoyed about this book, from the nuanced way Aveyard handles character's PTSD to the variety and complexity of the relationships between the women. Mare and Cameron, Mare and Evangaline (don't even get me started on how much I love Evangaline). Each relationship was different with ups and downs. Neither felt like a stereotype of any female relationship, there is depth and evolution throughout the book (and the series).
Mare's family, particularly her parents, are treat in and of themselves in the RQ series. It's so rare to see a whole, rather functional family unit in YA these days (because how does a functional parent let their child go and do these insane things anyway??) but they're there in a believable way and let Mare get into trouble in a believable way. It's excellent.
Of course, there are the boys of House Calore. Each are heart wrenching in their own ways. Maven, the broken king, whose inner turmoil Aveyard so beautifully illustrates and Cal, ever the soldier, who gives me all the feels.
And that ending… well, let's just say, I'm anxiously awaiting RQ #4.